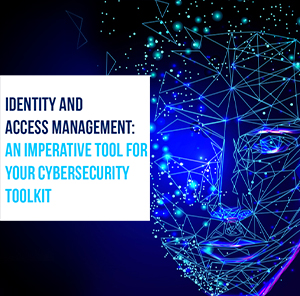 25/02/2022 09:27 AM
Trends Shaping The Future Of Identity And Access Management (IAM)
In the age of ever-increasing security threats, one cannot overlook the significance of managing identities within or across enterprises. IAM services ensure one digital identity per individual, which must be monitored, modified and maintained all through the user's access lifecycle.
As the intricacy and scope of modern identity environments are becoming challenging to manage using traditional methods, there is an imperative need to bring innovation and new technologies for creating a secure, flexible and adaptive IT infrastructure. The organizations must understand that security definitions are evolving at a disruptive speed. IAM tools installed across their critical spots need to be updated and compatible with advanced technologies and functionalities. They should not compromise on the IAM needs and look forward to elevating their overall security strategies.
Let's have a look at some of the most emerging trends in the IAM market.
Use of Biometric
Since the cyber-criminals have started implementing artificial intelligence and machine learning into their attacks, they can easily decrypt even the most complex passwords. So, as an alternative to password authentication, biometric authentication such as retinal scans, facial recognition and fingerprints has seen a good adoption rate. These methods are proving their potential in identifying the authorized personnel for networked systems. According to Global Markets Insights, the global biometric market is estimated to reach USD 50 billion by 2024.
Privileged Access Management (PAM)
Each organization has some privileged accounts that can access the most valuable business information. Such key accounts are constantly surveyed by the cyber-attackers to gain access to the business-critical assets. Thereby, the privileged accounts must be kept under 24x7x365 surveillance and secured with stringent authentication techniques.
PAM is an integral part of IAM, wherein the security protocols for privileged accounts are much higher than those for normal accounts of the organization. It should be considered as the most critical security controls to implement in each organization.
As per the report from MarketandMarket Research Private Limited, the global market growth of the privileged identity management market was recorded USD 922 million in 2016. It is now expected to reach USD 3792.5 million by 2021, at a CAGR of 32.7%.
Customer Identity and Access Management (CIAM)
Customer-centricity has always been the priority of every business. To provide good customer experience, organizations request customers to provide relevant and valid information.
Good customer experience, which is a key to substantial business growth, strains security and risk professionals to adopt advanced identity and access management capabilities.
CIAM is a sub-domain of IAM services that enable organizations to improve the overall customer experience by ensuring the security and privacy of the consumer identity and profile information using security mechanisms like single sign-on (SSO), multi-factor authentication (MFA), consent and preference management services. CIAM focuses on controlling client access to applications and administrations.
It is forecasted that the consumer IAM market will reach USD 37.79 billion by 2023 from USD 16.00 billion in 2018 (source: MarketandMarket Research Private Limited).
Blockchain in IAM
Over the last ten years, blockchain has gone through a transformative journey. It has now become an imagination-capturing marketplace. In 2017, the global blockchain market was valued at $706 million (approx), which is now ready to reach a $60 million mark across the globe by 2024.
Features like transparency, robustness, reliability, and integrity make both, public and private sectors believe that blockchain can add value to their organization. There are two main aspects of blockchain in the context of IAM i.e. self-sovereign identity and audit trail. The primary aim of self-sovereign identity is to replace traditional (centralized) identity providers while allowing each client to wholly control their own identity. The attributes of identity can be stored in an encrypted form (for privacy reasons) and will be decrypted, only when needed.
As per the second aspect, whenever any user is enrolled, requests certain permissions, disengaged or its attributes are altered, an audit trail entry is logged. This helps organizations in meeting compliance requirements, as well as in the detection of fraud. But the audit trail has some limitations as it does not limit certain privileged users from modifying the logged entries. In case, a fraud is done, and particularly if privileged users are involved, then the audit trail is not reliable. To overcome this limitation, blockchain and its underlying components such as the hash chain, merkle tree and cryptographic timestamp can be used.
Identity Access Management for Cloud Services
No doubt, cloud technology is one of the recent advancements that has completely revolutionized the digital era. Mostly enterprises, irrespective of their size and nature, are adopting cloud services to bring advantages such as scalability, flexibility and efficiency to their businesses. However, there are some security concerns, along with the benefits, that cannot be ignored. Ensuring a secured digital entity is a major concern for the organizations that are using cloud services.
Cloud User Access Management software, also referred to as User Access Management (UAM), can be seen implementing to create secured authorized access for users to critical data and applications. The market growth of this software was valued at USD 2463.21 million in 2018, which is now ready to reach a value of USD 6843.23 million by 2024 (source: MarketWatch).
IAM and Single Sign-on (SSO) Systems
Another popular trend that can take the global IAM market at peak is the use of single sign-on (SSO) systems with multi-factor authentication. Such security mechanisms help in granting privileged access requests to hybrid systems, which may consist of cloud services combined with on-premises networks.
IAM and the Internet of Things (IoT)
Since the number of internet-connected devices is increasing rapidly, the potential security risks are also growing. A report from Microsoft shows that IoT is on the rise in major business sectors, and around 94% of businesses will use IoT by 2021.
The need of the hour is to secure identity access management in these devices to restrict hackers from entering into the network and damaging further. For example, inexpensive IoT devices that use biometrics like fingerprint, are most likely to be targeted by hackers. Other vulnerable devices that could cause a severe threat include smart TVs, smart bulbs and smart security cameras.
Conclusion
With the increasing complexity of cyber-attacks, the scope and scale of identity access management will continue to witness healthy growth.
As per the market research report by Grand View Research, the IAM market is expected to reach nearly US $22.68 billion by 2025. Expanded compliance regulations from governments or regulatory bodies would further increase demand for advanced IAM solutions.